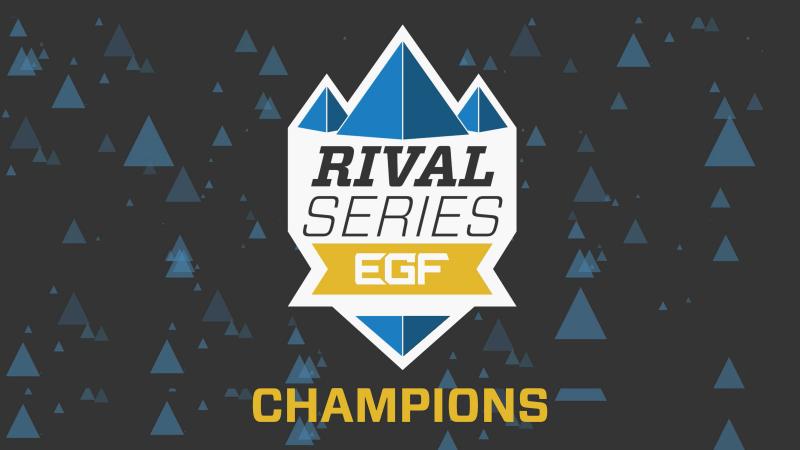 This fall, 8 universities faced off in intense competition across Hearthstone, Overwatch, and League of Legends, battling for glory and the first to become the EGF College Rival Champion. After 4 qualifiers, 4 teams met in the championship tournament this past weekend to find out who would reign supreme. You can check out the VODs from the entire tournament on our YouTube channel.
Going into the weekend the semi-final matchups were:
Overwatch
Stony Brook University (Stony Brook) vs Boston University (BU)
University of Massachusetts (UMass) vs University of Delaware(UDel)
Hearthstone
Stony Brook vs Harvard University (Harvard)
Columbia University (Columbia) vs University of Delaware (UDel)
League of Legends
UMass vs Stony Brook
BU vs Drexel University(Drexel)
The semi-finals started with Hearthstone where it didn't take long for the schools to show why they were contenders for the championship. The starting matchup put UDel versus Columbia. After UDel took the first game, Columbia fired back taking game two, but couldn't hold on, losing the next two giving UDel the win 3-1. On the other side of the bracket, Harvard forfeited giving Stony Brook an early bye to the finals.
It wasn't an easy day for colleges in League of Legends not named Boston or Stony Brook - BU who was able to beat Harvard 2-0 during the qualifiers managed to pull of the same against Drexel while Stony Brook who went 2-0 over NJIT during their qualifiers pulled off another 2-0 victory over UMass in their side of the bracket.
In the Overwatch semifinals, UMass faced UDel in a tight series that lasted all three games for UDel to inch out a 2-1 victory over UMass while Stony Brook took a forfeit win to advance over BU to the finals.
TOURNAMENT FINALS
Going into the finals bracket, the matchups were:
Stony Brook vs University of Delaware in Overwatch
Stony Brook vs University of Delaware in Hearthstone
Stony Brook vs Boston University in League of Legends.
Overwatch
The best of 3 Overwatch finals started on Numbani, Stony Brook's first map choice with UDel picking Ilios for the second map, leaving Route 66 as the decider map.
Stony Brook started Numbani on offense electing to go with a 2-2-2 (2 tank, 2 support, 2 dps) against a 3-2-1(3 tank, 2 support, 1 dps) with Stony Brook fielding a potent offensive Pharah (TROLLOLOumad) /Mercy (CrystalBirb) combo The combo play made the difference getting in tons of damage giving Stony brook the first two points.
UDel was able to shut down four push attempts by Stony Brook but in the end Stony Brook broke the UDel defense to cap the third point with 13 seconds left. After switching sides, Stony Brook became an iron wall, shutting down every push attempt by UDel thanks in large part to huge plays out of Stony Brook's Oidly on Reinhardt. With the strong hold, Stony Brook won the first map 3-0.
Going into Ilios, UDel had their backs against the wall down 0-1 in a best of three series. With TROLLOLOumad's Pharah a looming threat, UDel picked up a Mcree played by Cobalt to counter but it still wasn't enough and he eventually switched to Genji to try and take out the back line.
At the start of every round, Stony Brook got the early capture on the point thanks to great work by their Soldier 76, played by Lotzz using his quickly charged ultimate to secure the point while his team then pushed to make a defensive line against counter attacks.
During the third round of Ilios UDel made a stand with a big Genji ultimate by Cobalt securing the point giving them a short reprieve, but once Stony Brook regrouped, they came back strong to recapture the point and hold on for the victory taking a 2-0 series victory to become the Overwatch champions.
Hearthstone
With Stony Brook taking the victory in Overwatch, UDel looked to strike back with a victory in Hearthstone bringing Warrior, Priest, Shaman, and Hunter decks to face Stony Brook's Shaman, Warrior, Rogue, and Priest decks. After the self-ban of Shaman by UDel and Rogue by Stony Brook, the match began with Stony Brook's Shaman versus UDel's Priest.
Stony Brook came out with an early tempo lead and with a constant flood of minions on the board, they took game one. UDel switched to their Warrior deck for game two to battle Stony Brook's Priest. RNG was not on UDel's side leaving them without the draws needed to rush down the Stony Brook's Priest, who took the victory, now leading the series 2-0. Looking to repeat the sweep, Stony Brook's final deck of Warrior went against UDel's Priest, with better draws, more aggression, and a top deck Heroic Strike to secure thevictory and the championship 3-0.
League of Legends
Stony Brook was on a blazin' hot streak, sweeping both Overwatch and Hearthstone 2-0 and 3-0 respectively, and their sights were set on cementing their dominance with a victory in League of Legends.
BU stood tall, ready to take on the titans.
The first game of the series had other plans. Stony Brook took an early lead that BU couldn't crack resulting in a quick 26-minute victory for Stony Brook only giving a single kill to Boston.
After going down in the first game, BU's mid laner yell0w picked Cassiopeia and put on his carry pants getting a series of solo and roaming kills on multiple members of Stony Brook. Boston's momentum was not meant to last and even with yell0w getting fed early, Stony Brook was able to capitalize on the mistakes made by BU to help them equalize the gold and take a hard fought victory closing the series 2-0 taking not only the League of Legends championships, but the championship in all 3 titles.