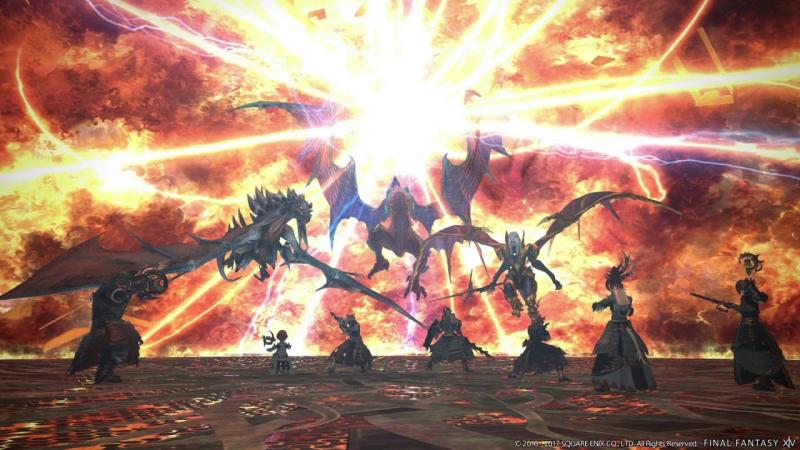 There are still no victors for Final Fantasy XIV's Unending Coil of Bahamut, also known as Ultimate Coil or Super Savage. The raid was introduced by the team due to the "unending" requests for more difficult raid material from the fanbase. In order to access the raid, you not only have to be of the maximum item level but also to have cleared one of the top raids in the game: Omega: Deltascape V4 (Savage), known to players as Omega 4 Savage or O4S.
When the difficult raid was teased before the Stormblood expansion, Naoki Yoshida (Yoshi-P) told players not to ask for it to be nerfed if it was too hard. And it seems like players have no intention of asking such a question. Apparently, this was raid was designed to be so difficult, the development team expected people to quit almost immediately.

The Unending Coil rounds up all the final bosses of the original versions of the Binding Coils of Bahamut and throws them at the party in a seemingly-neverending boss battle consisting of mechanics seen before, however, the difficulty is raised up to the highest possible. Some are calling the new mode "firm, but fair". Players who have seen the "2.0" version of the fight will recognize things like "divebombs" and "twisters".

Yet, nearly a week has passed since the raid was released and there are still no winners--or clears, as the players would call it. The FFXIV Reddit community always tracks teams who race to get the first clear and the first world clear, and the Google Doc is full of about100 teams from North America, Europe, and Japan, however, the "clear time" section of the document remains empty.
Normally, by now, not only would there be a clear, but there would perhaps even be guides to completion, yet even the most "hardcore" raiders are still having some form of difficulty.   
This is not the first time that a Final Fantasy MMO made news for a difficult boss battle. Final Fantasy XI introduced an eighteen-hour fight, Pandemonium Warden. Though players hope that perhaps Square Enix has learned their lesson from that fight after stories of apparent raid-induced vomiting. Although it is the longest running raid, at 120 minutes, it is a step in the right direction to avoid any other physical health issues of FFXI.
This is also not the first time that Square has revisited the Binding Coils content and raised the difficulty. The first time, however, there was no gear to be received. Only now is there gear locked behind the latest Ultimate content.
Among players, this is perhaps the content that has seen the most interest from players of all skill levels and preferences. Raiders are hard at work trying to clear the raid, and casual players are having fun simply watching raiders take on the raid. When the raid first went live, Final Fantasy XIV streams on Twitch momentarily passed World of Warcraft in the number of viewers.
We were made to believe we were gods with easy content, now we have to prove it by beating Unending Coil. #PlzNoNerf

— Frosty (@FrostyTVstream) October 31, 2017
Twitch is now full of streamers with "progress" videos as they continue to take on the raid with all they have.
Unfortunately, some players who take the ability to complete a raid quickly to be a sign of individual skill, have also been ever-present during the race for completion, and blame "bad players" for not being able to keep a team together or who keep a team from forming because of their supposed inability.
While there certainly is a level of skill necessary in this and all raids, cohesion is likely still playing a factor in why these parties are having such a difficult time.
Unlike most raids, recovering even from a single party death is near impossible. It seems that while some teams are inching closer to victory, they're just not close enough for an actual clear. This is likely to be expected for the first ever Ultimate-difficulty raid.
It's hard to say now if another week needs to pass until a team successfully completes the raid, or if we'll be seeing the team tackle the raid for another month. It is clear that this raid, however, has given a breath of fresh new life to Final Fantasy XIV and keeps the community occupied. At least, until the next patch.

Players are already hoping that there will be more Ultimate-level raids in the future, which, given the success and acclaim of the Unending Coil, is likely to happen. There is still the Heavensward raid, Alexander that can be revamped for Ultimate-level content. It may not happen, however, until the next expansion.

Check out this Reddit post and check out the twitch streams to see how the teams are progressing. And, to the raider reading this article. Good luck.