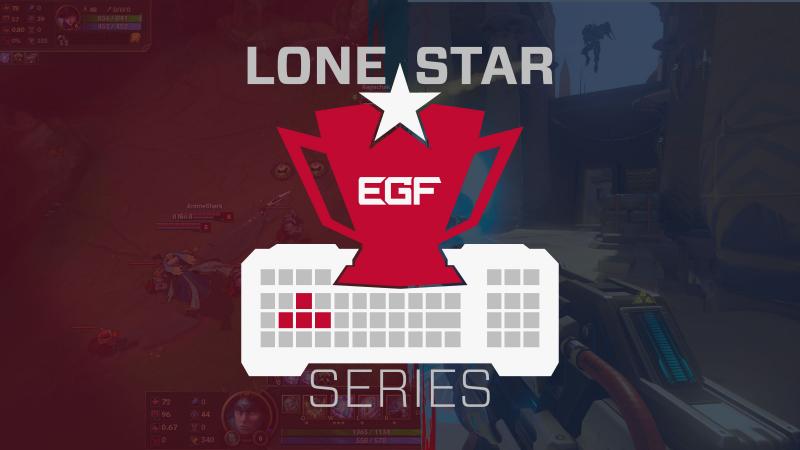 The EGF Lone Star Series brings together some of the top collegiate esports teams in Texas including:
UT Austin, Texas Tech, Texas A&M, Texas State, University of North Texas, UT Permian Basin, and UT San Antonio.
This tournament runs Friday(11/18) between 5:00PM-10:15PM CST and Saturday (11/19) between 10:30 AM-9:45 PM CST.
Those teams from across Texas will be competing in 3 titles across 2 days: Overwatch, Hearthstone, and League of Legends. The first day of the bracket will feature, Texas Tech vs Texas State, Texas A&M vs UNT, and UT San Antonio vs UT Permian Basin and UT Austin takes a bye for round 1.    
Overwatch is up first and we'll be seeing Sombra live for the first time in EGF competition. We're  excited to see what she can do in the hands of a strong team. Because of her recent release, full strategies and counters may not be fully fleshed out, but we expect she'll be making an appearance this weekend. In the Texas A&M vs UNT matchup, you should be on the lookout for Garrett "CallMeCypher" Lowe from A&M, a high ranking flex player at 3500 and in UT San Antonio vs UT Permian Basin matchup we'll be watching self-proclaimed "carry god"  Jorge "bloodmeat" Gasca.
In Hearthstone, the  release of the Heroic Tavern Brawl put a stronger emphasis on competitive play which we expect to influence teams' deck choices as so many decks that made it to twelve wins. In general, this should enhance the level of competition in Hearthstone and we're looking forward to its effects in this weekend's matchups.
League of Legends has seen some massive updates as part of the post-Worlds patch including a new way to itemize, jungle pathing, and champion power. Every teams this weekend is fielding players who rank in Platinum, Diamond, and higher so we're looking forward to see what they do with the recent updates. Since there haven't been many pro games played on the newest changes to figure out what strategies will dominate the meta, we'll just have to wait and see.  
Follow the EGF Lone Star Series and other tournaments on Twitch and follow us on Twitter and Facebook for live match commentary and updates on the series.
Want to level up your college esports? Bring EGF to your campus by
applying to be a part of the next series
!