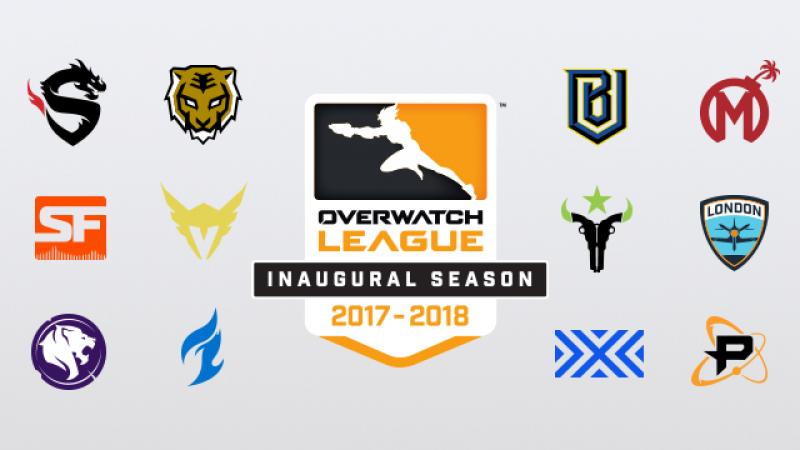 Still in full swing, the Overwatch League continues on Day 2 with the rest of the teams coming out to show their best. The second batch included: London Spitfire, Dallas Fuel, Houston Outlaws, New York Excelsior, Boston Uprising, and the Los Angeles Gladiators. Let's take a quick look at some of their best during the day.
Los Angeles Gladiators
You're not seeing double. L.A. does indeed have two teams to represent the city. First, the Valiants, and now the Gladiators. The Gladiators were off to an absolutely strong start in Game 1. With Surefour on Bastion, Hydration on Orisa, and iRemix on Reinhardt. They immediately took the payload and moved it quickly with shields in front of Bastion to take the first point. The synergy is clear for the team already, as they set up what is known as the "pirate ship", you set up your tanks with shield abilities on the Payload to protect other players as it moves. With both Orisa and Reinhardt, the sails were strong. Similarly, with Orisa's quick fire rate as well as Bastion's when in sentry mode, the two become a DPS powerhouse. Because of their strong composition right out of the gate, the Gladiators are able to take the first round quickly and with ease with 3:46 left on the clock. It certainly seems that the Gladiators are able to not only play their favorites well, but also that they are able to really choose the best character for any map. Shaz, who is known to be a support player, showed his amazing knowledge and skill with Genji, earning himself three Swift Strike kills in a row. Shaz was often praised in Day 2 for his impressive use of Zenyatta, however, it seems that Shaz prefers to play Master and Student, and knows them both like the back of his hand. Though it was a close match that went all the way to a tiebreaker in Game 5, the Gladiators did end up taking the match.
Nothing but smooth sailing with The Pirate Ship! How would you break this hold? #OWL2018 pic.twitter.com/p8dubugb49

— Overwatch League (@overwatchleague) December 7, 2017
London Spitfire
The London Spitfire come across as perhaps the most aggressive team, even when playing defensively. They are also perhaps the most likely to deviate from the usual team compositions we've seen so far. This is mostly referenced from their use of Roadhog in Game 1 against the Los Angeles Gladiators, as well as Rascal's Mei in Game 2. Rascal spent a majority of the game on fire. Ironic for an icy-character like Mei. In any case, Rascal's incredibly cunning and aggressive with their Mei. He is somehow able to be very forward, using Mei's icicle attack to take down many of the enemy team, as well as to keep them on their toes. He's also able to block their attempts to rush in with her giant ice wall. Rascal is also likely the one to watch out for on this team, as he has that same pick-up-and-go ability that can really make a match interesting to watch. Not to mention that he plays well into the Spitfire's choices. During the second round of Game 2, Rascal uses his quick thinking--literally--to sneak onto the point as Sombra along with Birdring's Tracer. While the Gladiators focus on the rest of the team, Birdring and Rascal nearly take the point on their own. The Spitfire aggression shows once more as they move onto point B and take the match with 5:05 left on the clock. An absolutely amazing play.

Unfortunately, it takes more than aggression to take down the Gladiators, as the London Spitfire lose in Game 5. Final score: 3-2, Gladiators.
That's just ice cold, @Rascal. #OWL2018 pic.twitter.com/6h4wUw6OQR

— Overwatch League (@overwatchleague) December 7, 2017
Dallas Fuel and Houston Outlaws
Two great Texas-based teams go head-to-head, and trade wins along the way. For the most part, it seemed as if the Outlaws had the upper hand. But, the Dallas Fuel did end up giving the team a run of their money. The teams have very similar play styles, as well as very similar character choices. Most of their matches seeming to result in near-mirror matches, with perhaps a slight variation in Tank or Damage-dealer choices. Though there were many great plays throughout all five of their games, both teams shined bright during Game 5. The Outlaws seem to perhaps lack the proper communication and the synergy that we've seen in most teams so far, however, they do like to take as many chances as possible. From Linkzr's Dragonblade to Rawkus' Transcendence, the team has come across as particularly reckless, as they seemed to uselessly toss around their ultimate abilities, without much follow-up. However, toward to end of their first round, it seemed like their unpredictable play style was nothing but a fluke. But, fluke or not, they were able to grab the goal with a well-placed D.va Self-Destruct from Coolmatt, winning the round for the Outlaws. But the down-but-not-out Dallas Fuel stuck back, winning round 2 and 3 with a more revived sense of cooperation. Though it seemed like perhaps there was also a lack of communication on the side of the Dallas Fuel, they got their act together in the second half of Game 5, rolling out a three-tank strategy for the last round and ultimately winning. Taimou, Mickie, and Effect decided to finish off the match with Roadhog, Orisa, and Zarya--respectively. Though it seemed like the Fuel was struggling to get back together, but ultimately, an amazing combo from Zarya and Orisa helped to take down the Outlaws, securing victory for the Dallas Fuel after a neck and neck match, 3-2.
The @DallasFuel beat the @OutlawsOW 3-2! #OWL2018 pic.twitter.com/aFJ9tLoM65

— Overwatch League (@overwatchleague) December 8, 2017
New York Excelsior and Boston Uprising
The battle of the northeast! New York and Boston had an exciting match against one another that, rather, unfortunately, did not go to a five-game series. This time around, it seemed that both teams were fairly evenly matched, especially in the early moments of Game 1. Game 1 was perhaps the most exciting and really a defining moment for both teams, as the first round was incredibly deadlocked just before the first checkpoint. An amazing self-destruct from D.va player "Note" of the Boston Uprising cleared out both of New York's support players. However, Note wasn't ready for Meko - the Excelsior's D.Va - getting the upper hand while they were both out of their mech suits. Ultimately, however, New York claims the first checkpoint after a near four-minute hold, as the rest of their team trickles in to once again claim the payload. There seemed to be an interesting bit of rivalry between Sabyeolbe and Dreamkazper, the damage dealers of New York Excelsior and Boston Uprising, respectively. Both players seem to play the same few damage dealers: Genji, Tracer, and McCree. You tend to see a good bit of all of these characters from all teams, however, the way in which each of these players chooses their targets is perhaps the most interesting part of their rivalry. Saebyeolbe, on more than one occasion, seems to find Dreamkazper during their match and attempts to single him out. During Game 4 in particular, Saebyeolbe makes an attempt to catch Dreamkazper off guard and stick him with Tracer's Pulse Bomb. However, he fails and instead, Dreamkazper catches the cocky Tracer with a headshot. Decidedly, however, the match goes to the New York Excelsior, 3-1.
Day 2 of the preseason has come to an end with the @NYXL beating the @BostonUprising 3-1! #OWL2018 pic.twitter.com/z7VSBx8FTI

— Overwatch League (@overwatchleague) December 8, 2017
Now that we've had a taste of each team and some of their players, it is time to really pick out the greatest among all the matches to come. I'm ready to see some amazing lineups in the preseason, and beyond, and I hope you are too!