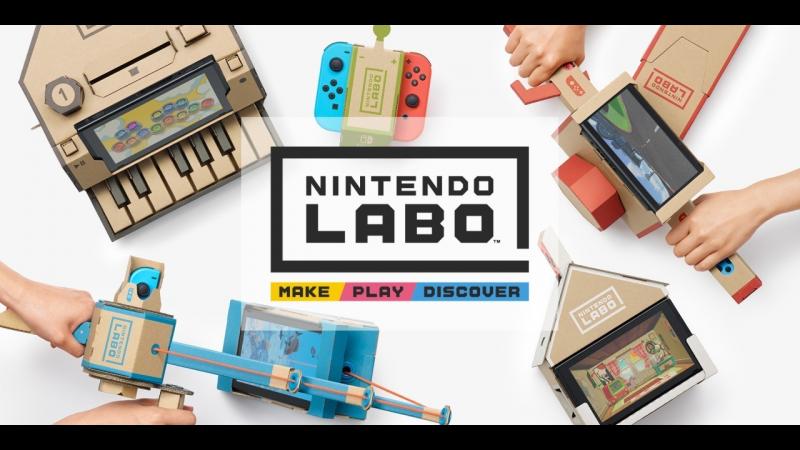 On April 20th, 2018, my fiancée and I attended a launch party at The Strong National Museum of Play for Nintendo's latest product, the Nintendo Labo. This product utilizes user-made cardboard contraptions that work in conjunction with software to play games. Labo invites creativity and imagination because a finished product can be decorated and colored upon to make it its own unique "Toy-Con," Nintendo's term for a completed cardboard apparatus.
When we arrived at the museum, we went to the museum's set up, which had tables for everyone to work at and a few demo kits at the side of the room with each Toy-Con available. Upon check-in, we had the option of selecting one Toy-Con from the variety kit, which includes a motorbike, two RC cars, a fishing rod, a house, and a piano, to build for ourselves. We decided to build the motorbike. It opened up with a greeting from the host and a video briefly explaining what Labo was and the possibilities with the available kits. Afterward, we are cleared to start assembling the Toy-Con and pull out the sheets of cardboard from our envelopes.
The sheets of cardboard were intimidating at first because there were many smaller pieces displayed up front, with the larger pieces behind them. Nevertheless, the software gives you step-by-step instructions to build the Toy-Con. First, it goes through a simple tutorial of making a shape out of cardboard, establishing the fundamental skills needed to build a complete Toy-Con. The routine effectively became this: punch out the associated pieces, fold along the creases, slot the pieces together in itself and with other pieces. The event was only an hour and a half long so putting the pieces together was a race against the clock. My fiancée would punch the pieces, fold the creases and hold the button to progress the instructions while I would fold the pieces and assemble the Toy-Con. In the end, we did finish, with about 10 minutes or so to spare, and we were able to play the game that used it. This particular Toy-Con used small shifts with the cardboard to activate a horn or the handbrake and rubber bands to simulate tension of a real accelerator to accelerate when you naturally twist your wrist back. The Joy-Con sat in each handle and the Switch sat in the center, displaying the track much like any racer would.
The game itself was simple, yet enjoyable. It was something similar to motion controls from the Wii when playing Mario Kart. In that sense, it is nothing revolutionary; however, the fact that the cardboard pieces worked together to simulate the sensation of riding a motorbike was very impressive. I was able to play with the fishing rod as and have a similar reaction: simple, yet enjoyable. Perhaps what I did not have time to flesh out was my own imagination when I had a chance to play at this event. Had I purchased Labo or had extended hands-on time, my opinion would likely be more favorable. Nevertheless, the games that I tried out did not take away from the satisfaction of actually building something to completion. Seeing cardboard cutouts come to life piece by piece is euphoric and astounding.
After seeing videos and having my own hands-on time with Labo, I can comfortably conclude that this is not a product for me, especially while I am an owner of PlayStation VR and several other gaming peripherals. My mind also isn't the most creative for making a Labo creation my own. I feel Nintendo Labo is best suited for the programming savvy when it comes to making Nintendo Labo and other cardboard creations do incredible things. Labo is probably most enjoyed by younger people, say ages 6-15, as they are likely to be in awe at cardboard controlling software and best suited to customize it as their own. Perhaps, Labo could be used as an entry point for children to navigate careers and opportunity in STEM because it utilizes very basic mechanics. Coming from an engineering background, I can appreciate this because the inner mechanics of the Toy-Con are simple, yet very elaborate once they are all put together, and the mystery of how it works is solved because it is built by its user. That is the fundamental basis of engineering.