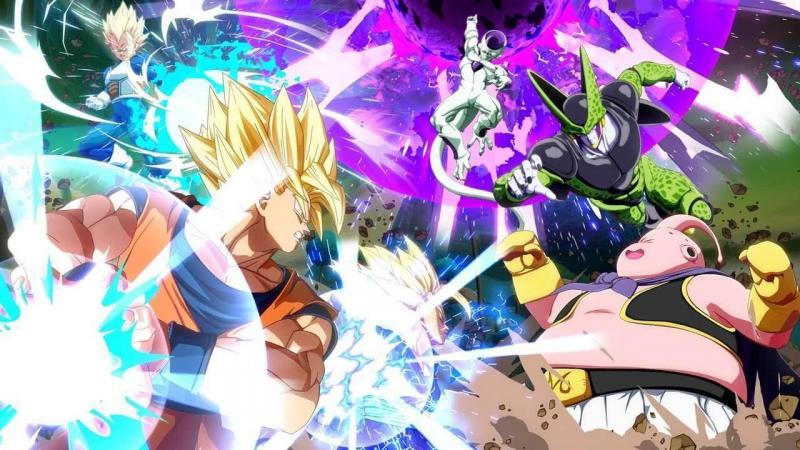 2017 was a big year for games. From giant releases on the Nintendo Switch, large changes in Overwatch, and so much more. Yet, there is still so much to look forward to in 2018, and even beyond. As we wind down with 2017, let's look at the games that could make some potential waves next year.
Dragon Ball FighterZ
Lovers of the Dragon Ball series and lovers of fighters will see their two loves combined in a way that only the Budokai series accomplished in the early 2000s. Dragon Ball FighterZ (DBFZ) is a 2.5D fighter developed by Arc System Works, the developers behind the Guilty Gear series. DBFZ is a 3v3, Marvel Vs. Capcom-styled fighter, where players can combine any of the available characters into a crazy team, stringing together flashy combos and finishing moves. Perhaps the most interesting piece of the game is the interaction between opponents when there is a "story" element to them. For example, if players choose to start as Goku and Frieza, a cutscene will play showing a bit of backstory as to why the two are fighting. Depending on the winner of the fight as well, the two will face-off in another cutscene and there will be a "dramatic finish". So far, there has been much in the way of videos, demos, and the like from Japan, however, it is clearly time for a Western release. Dragon Ball FighterZ is set to release January 26, 2018, for PS4, Xbox One, and PC.
Monster Hunter: World
The Monster Hunter series is popular worldwide and has been for many years. Monster Hunter is an action-based RPG that allows the player to make some interesting combat decisions with some realistic and unrealistic weapon choices (what even is a Charge Blade anyway?). Monster Hunter: World is shaping up to be an amazing game for 2018, with largely updated graphics, new mechanics--including camouflaging yourself using nearby foliage to sneak up on monsters--and much more. Fighting for that number one January spot with Dragon Ball FighterZ, Monster Hunter: World is set to release on January 26, 2018.
Metal Gear Survive
After Hideo Kojima's exile from Konami, this game was announced, confusing Metal Gear fans (including myself). Metal Gear Survive takes place after the destruction of Mother Base in Metal Gear Solid V: Ground Zeroes. It is a strange alternate universe where, instead of fighting soldiers, you fight some strange zombie-like monsters. It is a very sandbox-y take on the Metal Gear series--think, Metal Gear meets Minecraft. Aside from the single-player campaign, players are also able to team up and fight with friends and earn rewards and gear that can be used in co-op or single play. Though many Metal Gear fans took this as a giant middle-finger to Hideo Kojima, they still can't help but think that this game does look kind of cool. Metal Gear Survive's release date is February 20th, 2018.
A Way Out
If you watched the Game Awards this year, you saw a very enthusiastic game developer by the name of Josef Fares. Well, if you watched until after he gave a literal middle finger to the Oscars, saying that the Game Awards are way more creative and compelling, then you also got to see the game he created with Hazelight Studios called A Way Out. Perhaps unheard of until the Game Awards, A Way Out is a co-op only game that essentially brings back those old couch co-op feelings into a very dramatic jailbreak story. The game brands itself as being co-op only. Yes, only. However, so long as one person owns the game, they can bring in a friend to help them through it. The game is always in split-screen mode, whether on the couch or online. This game is being watched simply because of its innovation. Often are game single-player only, but very few games come to mind as co-op only. A Way Out is on its way in, releasing March 23, 2018.
Far Cry 5
Normally, Far Cry games are in some war-torn, exotic country. Far Cry 5 brings players to the good ol' USA, specifically, in the fictional Hope County, Montana. Players will fight back against a "militaristic doomsday cult" that has taken hold of the region. Perhaps a very controversial game when it was announced, as it seems to take some "nationalist" undertones and injects it into the game. Though the writing has yet to be seen, the game looks fairly standard for a Far Cry game as far as gameplay. All eyes are on how good (or bad) the story is, and we will soon find out. Far Cry 5 releases on March 27, 2018.
Kingdom Hearts 3
Perhaps the most anticipated game since 2005, Kingdom Hearts 3 is finally coming into the light. Fans rejoice! Right now, there is little information about the game despite it being one of the most anticipated games ever, but fans of some of the more recent Disney movies (like Big Hero 6), will be pretty excited to see those represented in the Kingdom Hearts world. Kingdom Hearts 3 seeks to bring a conclusion to the series, and does not yet have a set release date, but, we do know, that it's coming in 2018.
Red Dead Redemption 2
Rockstar's ever-popular Western-styled action-adventure game, Red Dead Redemption, is finally seeing it's sequel. Though information is slowly trickling out as well, there is a confirmed multiplayer mode to accompany the single-player story. Though it might not be as fleshed out and updated as GTAV's online mode, it still hopes to be a fun experience after a 7-year gap between the two games. Again, there is no set release date for this game, but it is promised for Spring 2018.
These are just a handful of games slated for 2018, but, if nothing else, these games look promising, fun, and like they will open up the doors for more amazing titles in 2018 and 2019. Maybe a Sonic Adventure 3? Maybe not, but I can dream. Here is hoping that 2018 is as exciting as it seems for games and as exciting as it was for 2017.