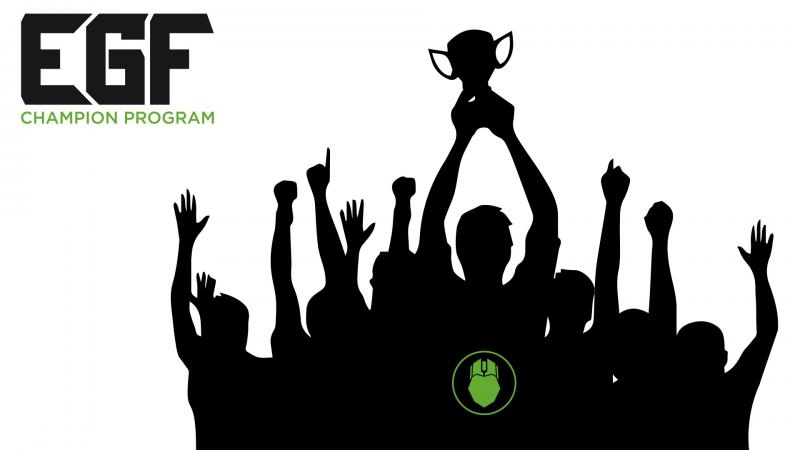 Help us build college eSports
Since we started the Electronic Gaming Federation, our vision has always been to bring eSports to every college campus in the world with the ultimate goal of creating a true equivalent for the NCAA for eSports. To make that happen, we started our open tournament series and today, our events serve more than a thousand players on three continents. Now we're aiming to come to your campus, but we need your help. If you want to inspire greatness and be recognized for what you love, become an EGF College Champion and help us start an EGF Chapter on your campus.
We intend to bring together teams from every school in NA [to start] to compete in a normalized schedule, just like you'd find with traditional sports like football or basketball. We handle all the tech, organization, prizing and logistics around the events. Creating the league means finding current gaming-focused clubs and helping new clubs form, and that's where our Champions come in.
What is a Champion?
A Champion can be one of two things; they can either be part of an existing club and act as an event coordinator and  campus representative, or you can be a founder of the first eSports club on your campus.
If you already have an eSports club for any game, as a champion you'll act as our campus representative, helping us build and schedule events that fit what your school needs. You'll also have access to our media training programs for casters and eSports writers.
If you've never had an eSports or gaming club on your campus, we'll help you start one. You'll take the role of president and recruiter, bringing in competitive players and enthusiasts. We'll teach you how to recruit and retain members and provide all of the tools you need to succeed. We'll support you with everything from figuring out all of the paperwork to running events and getting involved in our competitions.
You don't have to be the next Faker, Dendi, or Olofmeister to make a difference.
What are the benefits of joining EGF?
We love eSports and the competitive world, but we know that gaming is about more than just being the best - it's about the community it inspires and the amazing things that we can all accomplish and we build that into our vision for what happens with our chapters.
By founding an EGF Chapter you'll see a range of benefits. First and foremost, you'll have us. We've been players, captains, community managers, event organizers, and college club presidents so we know what you're going through and we're here to help.
Behind us, you'll have access to all of our web tools as they become available that are designed to help build your community, manage your teams and create/attend events. We'll also help set up and sponsor events on your campus or in your geographic region and you'll have access to publish articles and videos on our media site.
What games do we support?
Hearthstone
League of Legends
Dota 2
Next series we'll be working to add Counter-Strike:Global Offensive and Heroes of the Storm
What is EGF?
The Electronic Gaming Federation is an eSports organization founded in August of 2014. We've run eSports competitions, and produced live broadcasts of our matches, eSports analysis, game reviews and industry news for the last year Our company is a group of designers, coders and strategists who've played video games casually and competitively for the better part of their lives.
How do I apply?
If you're ready to change the world, just fill out the application, we'll be in touch.
Want more information? - If you have questions, you can email our CEO, Tyler directly.