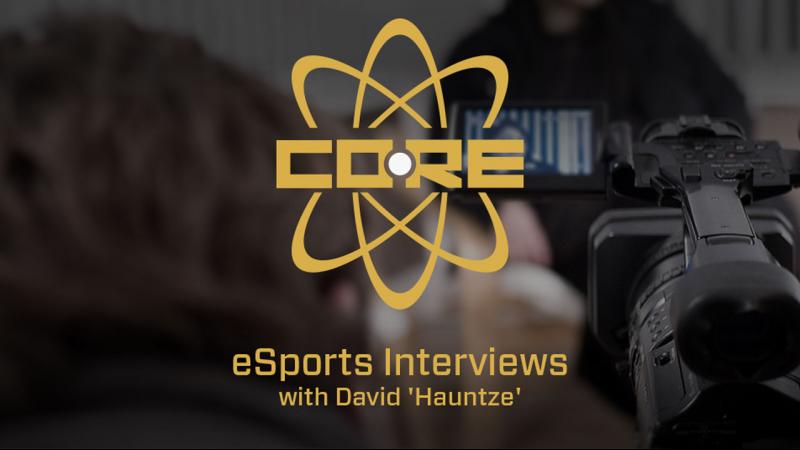 This week I got to sit down with the Content Director of British Esports, Dominic Sacco. British Esports is an organization dedicated to promoting esports in the UK through various programs and journalism. For most esports followers in the US, myself included, we often don't get very much exposure to scenes overseas. Sadly this interview is a bit dated and I wasn't able to talk to Dominic about some of the more recent developments in this area, like the Cloud9 London Overwatch team, but it was one of my favorite guests so far. Hope you enjoy!
Hello Dominic, thank you for taking the time to meet with me. Would you like to take a minute to introduce yourself and tell me a bit more about what you do?

I am Dominic Sacco. I graduated university about 10-11 years ago and have been working in trade journalism for the past 8-9 years. I worked for MCV, The Market for Computer & Video Games, for about three years, and then moved to other magazines internally at NewBay Media. I eventually became Editor of PCR, which is a technology and trade publication here in the UK, which is read by the likes of Microsoft, AMD, Intel, and various other retailers and distributors in the computing industry. With esports, I started following the scene quite religiously about 6-7 years ago during Season 2 of the League of Legends World Championship, and have followed it closely ever since. I set up a website a few years ago, called Esports News UK, which focuses mainly on the UK League of Legends scene but also covering other esports players in Britain. I caught the attention of the British Esports Association around this time last year, we're a non-profit organization to promote and support grassroots esports in Britain, such as: educating parents, children, media and government. We recently started a pilot scheme out of a local library in London, for children to come after school to play esports, learn how to cast and coach and journalism. We held this pilot program for a month and are looking to do this more regularly over the next few months and transition that into a larger nationwide tournament for children, which will most likely games like Rocket League.

Makes sense, Rocket League is a simpler game and easy to have fun with but harder to master. So your role at British Esports is a Content Director? Could you fill me in what you do as a Content Director specifically?

I do some project management, like heading the library pilot scheme that I mentioned earlier, and I work on a little bit of everything for us. But as Content Director, I am primarily responsible for content on the website, our video content, and social media. My background is mostly in articles so I mainly write a lot of news and our press releases, and things of that nature.

Very cool, you seem like a very busy person. You talked about your professional career a lot, how did you initially get into gaming?

I was three years old when I first played Mega Man on the NES at my cousin's house, back in the late 80's. I feel in love with the Mario Bros games. I was also lucky enough to win a NES, I entered a competition at my local cinema and won a console. I have never looked back since then. As a boy, I always used to like Nintendo and as I got older, when I became a teenager, I got the Dreamcast and Xbox, then got carried away gaming online through Xbox Live. So starting from gaming in a family member's home, and I've always playing and the challenge of beating games, and now, through esports, beating other people.

That's very cool. I actually started gaming by learning English by playing Pokemon Yellow on the Gameboy Color.

That's brilliant! I was a big Pokémon fan myself as well, I think I owned a copy of Pokémon Red.

So, for British Esports, do you happen to have a mission statement that you all try to follow? Or is just promoting esports in general in Europe?

When we first launched last year, we had five major goals that were a little bit too broad, and we've sort of generalized it into: Promote, Inspire and Improve. It is still quite vague and we are still working on our individual targets, like as I mentioned earlier with educating the media and government. Everything we do goes back to our three goals: inspiring the younger generation, improving the infrastructure that we have currently in Britain and promoting the grassroots esports players and programs.

Interesting. So do you mind describing the European/British esports scene to me? I feel as if not many people in the US follow these developments in other countries and I personally only follow the EULCS very occasionally.

Yea, thats a good question. I am mainly League of Legends focused myself, so I also primarily follow the EULCS over other European esports. Europe is quite strong, Britain is quite far behind, but countries like Sweden and Denmark are doing very well. For example, Sweden has some very strong players, in Counter-Strike mainly, and we look to Sweden because their country is quite far ahead in terms of how esports is accepted in the country. They have boot camps for children, they've very pro diversity, they have code of conducts that helped grow esports in the country.

Other than the EULCS there are many huge tournaments to be honest. You have things, like the Overwatch League, coming in Europe, for example Cloud9 buying the London spot. I don't follow other esports super closely, so outside of the EULCS I won't be able to go into massive specifics. But I think it is fair to say that Europe is behind other regions as a whole.

In Britain specifically, we're quite strong in Call of Duty, Overwatch and FIFA. Five players out of thirty-two in the Interactive World Cup for FIFA are British.

I agree, it's a bit tough for the both of our regions because EU and NA generally sit pretty far behind Korea and other Asian countries in terms of esports development. At your time at British Esports so far, what you believe is your biggest accomplishment or even your favorite memory?

That's a great question. Since we're quite new, we were only set up around this time last year, and we have been working on things, like our membership scheme so people can join our association and receive different benefits such as managing and planning tournaments on our site. The Library Pilot scheme is the biggest initiative we've done so far, so that has to be my best memory. It was great seeing all the children participating, with some even being pretty shy to start but at the end of the session, seeing those children come out of their shells and having fun, learning that esports can lead to a career, and teaching their parents that esports can be a career. That was really fun and no one has really done that in Britain before. The library we worked with were very keen to do more and we are working to get other libraries and schools working with us.

That very awesome, I think that impacting esports communities is one of my favorite development points with the esports field so far. Allowing people to get more involved and having fun.

I agree, I'm all about the community as well and I believe that the community kind of decides what makes an esports and how successful it becomes. I think that has been the case for the games industry in general in the UK.

Definitely, to get back on the more serious side, what is your average day at British Esports Association like?

Since I am primarily a Content Manager, I treat it like a traditional journalism position. I get started around 8 or 9am and check the emails and social media that we have received. I'll usually have calls with other members of the company like the chairman, and then talking to people like yourself. A lot of meetings and phone calls, for example we had a meeting with The Daily Mail yesterday, the media here want to get more involved in esports now and we help give some advice. Since the media is educating the public of what esports is, we are happy to help them. It's a nice varied role. I am lucky to be able to work from home, but I probably go into London at least twice a week to have meetings. London seems to becoming a hub now, for example Riot Games has opened a new office here in London and Hi-Rez Studios down in Brighton. There's a lot of players in esports here now, like Twitch, ESL UK, and of course Fnatic is in London. So trying to stay on top of this and responding to membership requests and community engagement. I often get phone calls from teenagers and parents asking about how they can get into esports.

That's great! You talked earlier about how you check on the current state of esports, what do you think esports will be like in five or ten years?

If I'm being truthful, I read a lot of data reports from organizations, like newzoo and SuperData, and they often project us for great growth and revenue in the scene for 2020. I do think the bubble might burst around then, in about five years time, I could be wrong of course. I just believe that the monumental growth that games like League of Legends and Counter Strike have had will eventually slow down. Comparing it to the MMO scene, games like World of Warcraft eventually died out and I can kind of see something fairly similar coming to these games in the grand scheme of things. Obviously other games might emerge, you've got Overwatch and Rocket League that have both done quite well recently but I'm not too sure. There's only so much esports there can be. I also think there will be fewer bigger players. If you look at the trends going on right now, all the sporting clubs buying into teams, like Schalke and the Philadelphia 76ers, a lot of these team organizations have had to take investment from those big clubs to survive and compete. Along with the franchising trends, the more money that is in the scene, the less grassroots organizations will have an impact within the scene and I find that quite concerning. I don't believe that esports will completely die out, since other games will emerge and take the spot of other games. You have games like Player Unknown which is also exploding in popularity recently. We also have people who will grow older and get their children involved in esports.

Definitely, esports is still going to have a major impact going into the future. Recently there were even talk about having esports in the Olympics, what are your thoughts on that?

Yea I think it was around 2024. I think the media has gone a bit crazy about reporting on that subject even though they are only thinking about it. I think they have the right to think about it since it's growing so fast. Our stance on it here is that esports is not a sport since there is no physical activity behind it, but it is a game, almost like chess. We're building it like a credible activity with a lot of benefits, just like chess, it can help cognitive behavior, improve teamwork, leadership skills and reaction times. If the Olympic committee want to add esports to the lineup, I would be all for it but we would have to see how things go.

I agree, when esports enters the mainstream it is a bit tough for people to accept it as a sport. Since we went off topic a bit, let's bring it back to British Esports again, how large is your current team there?

There is only a handful of us. On the content side, I have a guy named Brian who helps me out. We have Chester King, our founder, and Andy Pain, the chairman. We have an advisory board, which is composed of about ten experts, like Michael O'Dell, the founder of Dignitas. Although it's only about four or five of us at the moment, we have a solid network of professionals and talent who help us with our organization. We have a few meetings every year and are in contact with these professionals via email.

That's great! That's most of the questions that I had for you. Thanks again for taking the time to speak with me!

Not a problem, thank you for reaching out to me.
You guys can check out more about the British Esports Association here: http://www.britishesports.org/.
You can also follow Dominic and the great work he does on his Twitter: https://twitter.com/Dom_Sacco.
As a quick note, Core will now be shifting to weekly releases instead of the current bi-weekly schedule. Due to the sudden influx of interviews and content, I am planning on switching in order to release all of my current content before the start of Winter where most college students are on break. I'll see you guys next week!