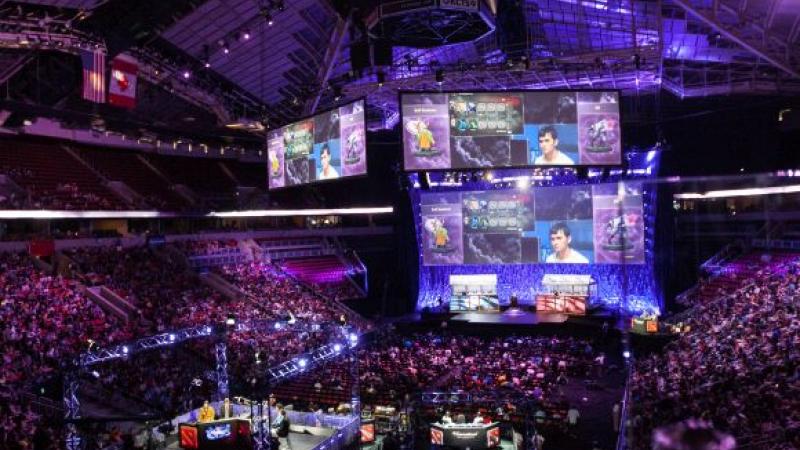 Since the time where friends got together and played video games at LAN parties, competitive gaming has grown at an exponential rate. Before, games like Call of Duty, Halo, Street Fighter, and Counter-Strike were at the peak of esports with small tournaments all over the country. Fast-forward to 2018, and now these games - and more - are played in tournaments all over the world.
According to an article written by Business Insider, The amount of money competitive gaming is supposed to acquire is an estimated $800 million from advertising and sponsoring, not including media broadcasting rights.
League of Legends was one of the first games to switch from a traditional tournament format to actually forming their own gaming league, the League of Legends Championship Series (LCS). Going on their 8th season, the prize pool for the world champion has grown with each year. In the first season, players battled over a prize pool of $100,000. In their 7th season the prize had grown to over $5 million and the year before that the prize pool was over $6 million.
Dota 2 has also been growing in their prize pool since starting their world championships, The International in 2011. Its first prize pool was $350,000 and in 2017 the game amassed the largest prize pool in esports history with $20,770,460. Dota 2 is also the first game take their competitive tournaments to ESPN, where The International 2014 was streamed was streamed on ESPN3.
The growing of number of viewers from popular esports games, such as Counter-Strike: Global Offensive (CSGO) and League of Legends, is even gaining the respect of other major organizations from traditional sports like the NBA.
In League of Legends, the first team to be formed outside of another gaming organization was Echo Fox. This team was formed by Los Angeles Laker legend Rick Fox and was recently invested in by the New York Yankees. Also, FlyQuest is partly owned by Co-owner of the Milwaukee Bucks, Wesley Edens.
This year League of Legends has franchised their teams, which keeps the same 10 teams in the LCS. Before, there were relegation tournaments where different organizations could join the league so each year there would be new teams. The ten LCS teams have some returning organizations that have had major success within the league TeamSoloMid, Cloud9, Counter Logic Gaming, Team Liquid, Echo Fox, and FlyQuest. Three of the new four teams have owners that are related to the NBA. 100 Thieves is Owned by the Cleveland Cavaliers and former Call of Duty professional Matthew "Nadeshot" Haag; Clutch City Gaming has been invested in by the Houston Rockets; and the Golden Guardians are a product of the Golden State Warriors.
In the NBA, there has been a partnership with Take-Two Interactive, the publishes of the franchise NBA 2K. This year in May, there will be a new feature called the NBA 2K eLeague. In this inaugural league, there will be 17 teams participating in a league based on the current teams in the NBA. Players will try out and be drafted into teams where they will then compete in a season that goes until August and play in a playoff series for a championship. To see when new information arises you can find you go to nba.2k.com
Overwatch, the newest competitive game that has gained popularity since its release in 2016, has the most unique league in esports. It takes the role of a traditional sport where there are divisions and teams are based off cities although they still compete in a studio. This is also the first esports league that has an international team within it. More information on the Overwatch League can be found on their website.
With these accomplishments, esports has made such an impact that there is speculation that it could make an appearance at the Olympics one day. If this does happen, that feat could legitimise competitive gaming as a sport and give more traditional sports a run for its money.